Vegetables and fruits that have been cultivated outside of the soil are automatically categorized in the supermarket as non-biological. However, a tomato from a high-tech greenhouse in the Netherlands has actually been cultivated in a very natural, sustainable way, without the use of any chemical crop protection products.


Biological crop protection products have become mainstream in the greenhouse and form an important base for the cultivation and health of the crops. Nowadays, bio stimulants are increasingly used to make sure plants stay more resilient and healthy.


More research is being done on the (re)use of water in the greenhouse and the life that exists within this water. For example, think about the water around the plants' roots, within the growing media, but also in the water that's discharged outside of the greenhouse.


Seventy percent of evaporative water from the greenhouse is lost through the ventilation systems. By applying other methods of dehumidification, the grower can limit the amount of water that's lost.
Read more about sustainable cultivation methods and next steps we can take towards a resilient greenhouse in this Food Forward.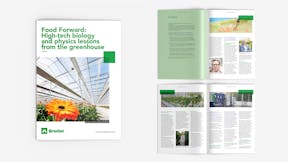 Food Forward: High-tech biology and physics lessons from the greenhouse
Did you know that as early as 1988 it was discovered that bumblebees are the best pollinators of tomatoes? Thanks to their 'buzz-pollination' technique, where the bees shake the flowers, bumblebees are now used for more than a hundred different crops.