'Precision Growing' literally translates into growing more, with fewer inputs. In this context GRODAN focuses on root zone management solutions, yet understands the need for a holistic approach towards the cultivation. This chapter describes 'Precision Growing' with respect to root zone management. It focuses on substrate choice; design and use with respect to optimizing the water supply. This chapter consists of four parts. We first give some basic background information about root zone management in relation to substrates. Subsequently we provide detailed advice about irrigation during the first weeks of a new crop; during the main harvesting period and towards the end of the cultivation cycle.
Why root zone management?
A targeted water and nutrient supply will improve crop yield and fruit quality. This can be achieved by accurately steering substrate water content (WC) and the electrical conductivity (EC) in line with the incumbent climatic conditions and generative / vegetative plant balance.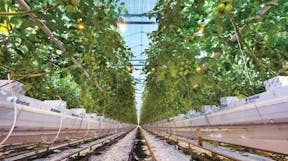 Read The Best Practice Guidelines for Greenhouse Water Management
The guide has been written to provide greenhouse owners and managers with an overview of current best practice.