The Autonomous Greenhouses International Challenge (AGIC), organised by Wageningen University & Research (WUR), is based on the underlying belief that artificial intelligence represents a significant opportunity to drive horticultural productivity. This will offer sustainability benefits in terms of reducing the use of resources and helping to secure an efficient supply of healthy vegetables to feed the growing world population. From the 21 multidisciplinary teams from around the world that took part in the AGIC's pre-challenge hackathon in the Netherlands in September 2019, five made it through to the final event.
One of those teams is Digilog, almost all of whose 16 members are based in South Korea (with participants also in Belgium and Israel). The team is led by H.K. Suh, CTO and vice-president of A-Net in Seoul and assistant professor of agricultural engineering at Dong-A University, where he is specialised in robotics and automation in agriculture. "I did my PhD and postdoc at WUR, which is where I first found out about the challenge. I thought it was a fascinating idea. So when I started working at A-Net, I decided to organise a team," he explains. "It wasn't easy but eventually we found the right mix of software engineers, crops experts and hardware/software specialists. We chose the name Digilog to represent the fusion of 'Digital' and 'Analog': the new harmony in the upcoming era."
Multidisciplinary team
A key member on the software side is JinHyung Cho, the CEO of a start-up company called ioCrops Inc., based in Seoul. "Our company was founded in August 2018 to set up a cloud-based data management software platform for precision agriculture in greenhouse cultivation," says JinHyung. "The goal of the AGIC coincides with the goal of our company: to use data and a data-management platform to turn the autonomous greenhouse into a reality. We are currently collecting data from lots of growers in South Korea as the basis for our algorithms, so the AGIC is an excellent opportunity to test our software and all our sensors." Another key member of Team Digilog is Hyeran Lee. She majored in horticulture and is now working at ioCrops as an agro-data analyst. "I met Suh while I was a graduate student at WUR. I'm really interested in how machine learning can be applied in crop cultivation which highly depends on human experiences, so I was delighted when he asked me to join the team," she comments.
Precise control of the root zone
All teams in the AGIC have been given six months to produce a cherry tomato crop remotely. WUR is providing each multidisciplinary team with greenhouse space and controls, including equipment supplied by Grodan, at its agricultural research facility in the Dutch town of Bleiswijk. "In a greenhouse compartment of 96m2, we have an actual growing area of 76.8m2. The crop – a single tomato variety – was planted in mid-December 2019. Every team is using Grodan's slabs as the substrate. In the past, I've worked with other types of rockwool and coco slabs, and there is a clear difference," says JinHyung. "Grodan's slabs have a very uniform quality and absorbability. This gives us much more precise control of the water content level and EC in the root zone, which is a big advantage for the roots and hence for plant health. Also, the slabs give off no dirt so the greenhouse stays nice and clean."
"The AGIC organisers have installed GroSens sensors to provide slab data to all the teams. In addition to that, we've installed our own sensors and some cameras too so we can see how the crops are growing," he continues. "We've been gathering and analysing all sorts of data – not only about the greenhouse climate, such as temperature and relative humidity, but also about the plant profile, such as the plant height, how many leaves, how many fruits per truss, the stem thickness, and so on. We even have a sensor to measure the leaf temperature. All of this helps us to optimally control the inputs to achieve the desired plant profile."
Meaningful sensor data
The sensors and webcams gather the data and feed it to the servers on an almost continuous basis. "We access the data every morning. We check the irrigated water (l/m²) and drainage (l/m²) value to calculate the drainage percentage and then we also check the trend of the slab water content (from the Grodan sensor) and slab weight (from the ioCrops sensor) graph. We assess the difference between the minimum and maximum values of slab water content and slab weight and decide how to fine-tune our irrigation strategy – such as when to start and stop irrigation, the volume and duration of irrigation and how long to wait in between each irrigation session," explains Hyeran.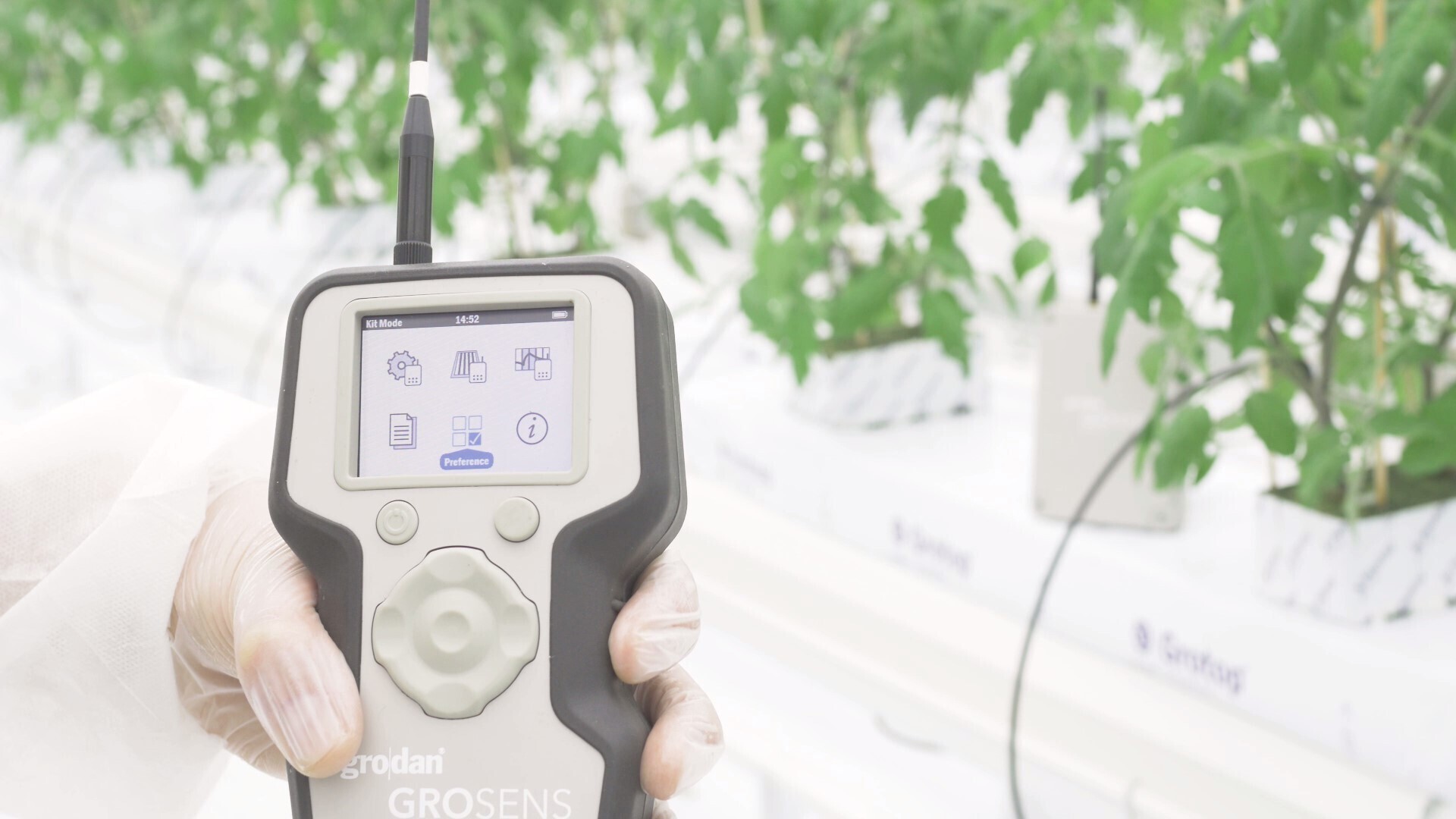 "Our own sensors measure the slab temperature and the slab EC, and detect the weight of the slab to indicate the water content," she continues. "But this includes the weight of the plant, its foliage and fruits. That's why GroSens is so useful. It is an FDR-based sensor to measure the electrical property of only the slab itself, and the distribution of the moisture in it. By taking the slab weight from our own sensors and combining that with the data from GroSens, we get an accurate and absolute picture. It's not about just having more data, but rather about having more meaningful data."
Overcoming challenges
From a software point of view, it has proved challenging to get the AI model working optimally within the project's six-month time frame. "The aim of the AGIC is to encourage the use of artificial intelligence (AI), but the period is almost too short to achieve any significant results," comments JinHyung. "AI algorithms have to be 'trained' based on real data to benefit from machine learning. We're still fine-tuning our algorithm, and it's getting better all the time, but we now only have a couple of months left until the challenge ends in June."
Another challenge according to Suh is a physical one – but not because of the remoteness of the greenhouse: "Most of us are based in South Korea but not all in the same city, which can make it difficult to get the whole team together for meetings. Besides that, the AGIC is a side project for everyone, of course, alongside their 'real' jobs. That's probably also the reason why we don't have much contact with other teams – not because we don't want to learn from one another, but simply because we're all too busy!"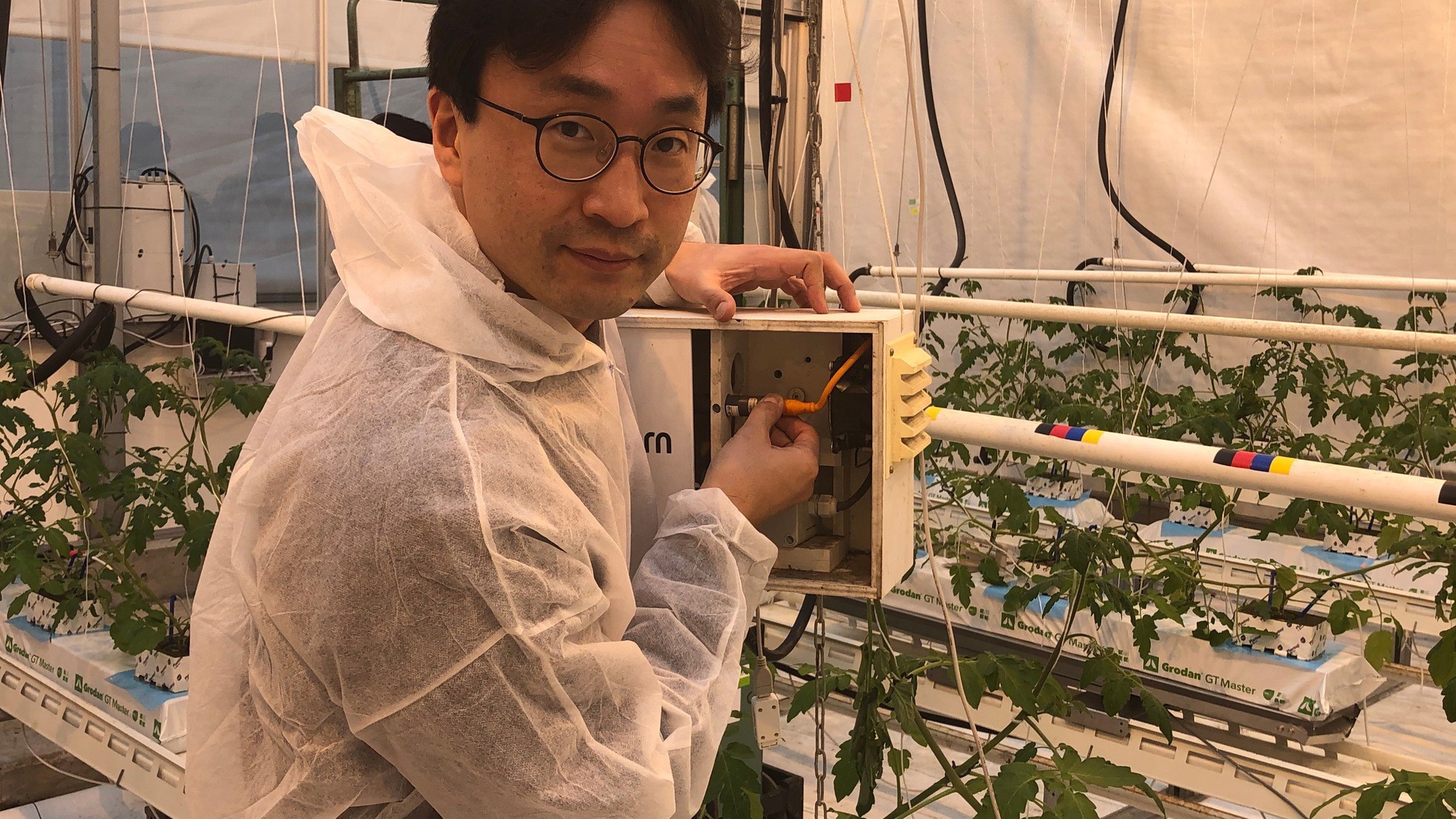 A step closer to the autonomous greenhouse
Although Team Digilog is currently not on track to win, as one of the only newcomers to the challenge this year the team's results are certainly impressive. Hyeran: "We've already harvested a lot of tomatoes in our given circumstances, although we're not allowed to reveal the exact amount until the end of the challenge. Also the brix value of our last harvest was pretty high and we're very happy with that!". Moreover, these three team members all regard the AGIC as an important step closer to the autonomous greenhouse. "To leverage the existing IT expertise in South Korea for the agricultural domain, I'm keen to create awareness that AI can be used for high-tech growing. Organising a challenge of this kind in Asia would be a good way to do that, so participating in the AGIC has given me useful experience," comments Suh. "This challenge has given me a first taste of how AI can actually be applied in autonomous cultivation systems, and I'm looking forward to helping our company to further develop this," says Hyeran. JinHyung agrees: "I regard the AGIC as just an appetiser for us. It has been a really good opportunity for us to combine data-driven production methods with real growing and to test how everything works in practice. This will help us all to pursue the ultimate aim: finding ways of applying the latest data management and analysis techniques to help growers become more efficient and hence more sustainable," he concludes.